School Ready
Program Offering:
2-hour Academic School Prep Program
Differentiated programming from Grades 1 – 6.
Taught by Alberta certificated teacher
Refines literacy and numeracy skills for each grade level
Parents are provided weekly updates on progress
Program Focus:
Based on Alberta Mathematics and Language Arts curriculum
Individualized plan for each child's current grade level and ability
Teachers develop an individualised program plan by identifying areas for growth
Supports each child in mastering key competencies
Prepares each child to thrive in the upcoming school year
Starting: July 27, 2020
Offered during July and August ONLY
This program will be available at the following locations:
BrightPath McKenzie Towne
BrightPath Creekside
BrightPath Richmond
BrightPath Chestermere
If you are interested in our Back to School Prep program, please contact our Client Services Team at 1-888-808-2252 or enrollment@brightpathkids.com.
Have any questions? Inquire Online today.
Locations that offer the Back to School Prep Program
Overview
BrightPath's Back to School Prep program has been designed to meet your child's individual learning needs while inspiring a love for learning. The Back to School Prep program covers outcomes from the Alberta Mathematics and Language Arts curriculum, including differentiated programming from Grades 1 – 5/6. Upon entering the program, an Alberta Certificated Teacher will assess your child's current level of ability in order to develop and teach a program that allows your child to refine his/ her skills in literacy and numeracy. Ongoing teacher assessment will allow your child's teacher to identify areas for growth and develop a program plan to help your child master key competencies and as well as feel empowered as a learner. Whether your child is currently above, below or at grade level, we will provide authentic learning experiences that are academically rigorous as well as engaging for your child. Back to School Prep will not only counter the "summer learning loss," but will also help your child thrive in the upcoming school year.
Mathematics
Our strategic approach to Mathematics includes project-based learning as well as traditional learning approaches. Students will be given the opportunity to develop mathematical skills through workbooks and worksheets and will then be encouraged to apply what they've learned in order to participate in innovative project-based learning tasks. The goal for our Mathematics program is to help students bridge the gap between textbook learning and authentic, real world problem solving that encourages deep student engagement and fosters critical thinking skills.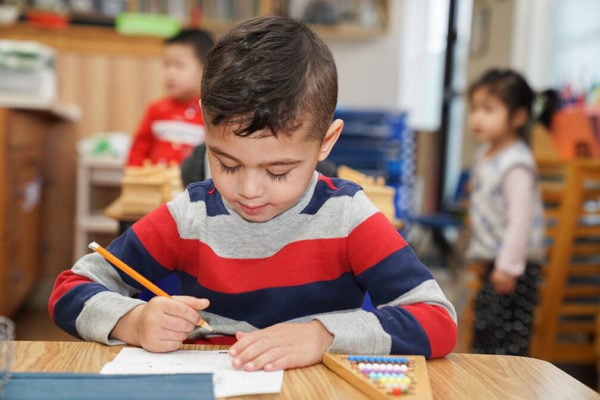 Language Arts
As a part of our Language Arts program, we will focus on strengthening foundational skills that will help your child to be successful in reading and writing. By providing a differentiated Language Arts program that reinforces a variety of skills from the Alberta curriculum, your child will return to school in September with greater confidence as a reader and a writer.