Montessori Curriculum
Our program philosophy is based on Montessori principles which focus on a child's early years (from birth to six) and help develop independence, concentration, and an innate love of learning in each child. The environment is carefully structured using specific Montessori materials.
Communication
Two-way communication is important. Monthly newsletters, curriculum nights, parent interviews, open houses and our proprietary app (BrightPath Connect™) are designed to increase the interaction between our centres and families.
Montessori Educators
Montessori Educators, referred to as Guides, are there to support each child and ensure each child finds success. The Montessori pedagogical approach requires educators and Guides to be partners, designers of the environment, planners, recorders, and communicators.
Nutrition
We believe that proper nutrition is essential to nurture growth in both mind and body, supporting an overall sense of health and wellbeing. Our menu is crafted by a registered dietician and prepared in house daily to ensure children are provided with nutritious snacks and lunches.
*Please note that at this time our Montessori Springbank location does not offer lunch
What is Montessori
The Montessori Philosophy is based on the work of Dr. Maria Montessori, who created a revolutionary pedagogy over 100 years ago. It quickly became the world's largest education movement.
The philosophy is based on the belief that a child's early years (from birth to six) are the period where the greatest academic and social learning potential exists and it encourages children to be independent, confident learners through choosing their own work.
Dr. Maria Montessori believed that treating children with respect would inspire and empower them to create a better world once they reached adulthood. This belief is the basis for the Montessori method. In our Montessori program, each child has a sense of belonging, well-being, and opportunities for engagement and self-expression. Our goal is to cultivate creativity, independence, self-esteem and a lifelong desire to learn.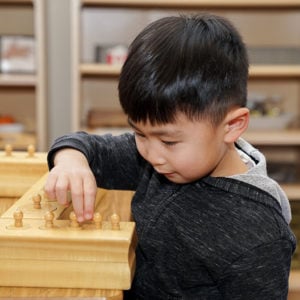 What Montessori by BrightPath Families Think About Us