Philosophy
BrightPath Academy understands that early childhood development sets the foundation for life-long learning and behaviours. Our Academy is dedicated to delivering a curriculum that ensures we are meeting each individual child's developmental needs in an inclusive, holistic environment. At BrightPath Academy we acknowledge that children are competent, capable, curious and rich in potential. Children have the freedom to explore, take safe risks and discover through trial and error. BrightPath Academy welcomes individuality, celebrates uniqueness, encourages creative expression, and fosters an environment where belonging and freedom of expression are integral.
Our program is designed to care for and educate the children through both play-based and instructional guidance that will support the children's learning through the process of interest-based scaffolding. This promotes an understanding of and gained knowledge in language and literacy, mathematics and sciences, physical literacy and social/emotional learning. Our curriculum focuses on what the children are interested in, building academia within that focus to keep the children interested and the learning meaningful.
Our Environments are set up to act as a 3rd teacher. This provides access to rich educational materials, having quiet and social areas for best learning, teaching responsibility to the children, and working as a community to create an environment that is organized and promotes readiness to learn.
The program offers a combination of Early Childhood Educators and certificated teachers. Our Educators are qualified, knowledgeable and responsive play partners. Educators are continual learners who support the children's growth by building an interest-based curriculum and learning alongside the children. This process of teaching builds curiosity and provides different opportunities and techniques to confidently problem solve and further inquire, as well, challenge their abilities to enhance their skills and insight.
Infant Curriculum
This unique program provides support in five key developmental domains: language, cognitive, social, emotional and physical development. The infant Academy curriculum starts at birth and continues until 18 months of age. During this time, Educators focus on building positive, trusting relationships, early communication skills and support infants to reach self actualization.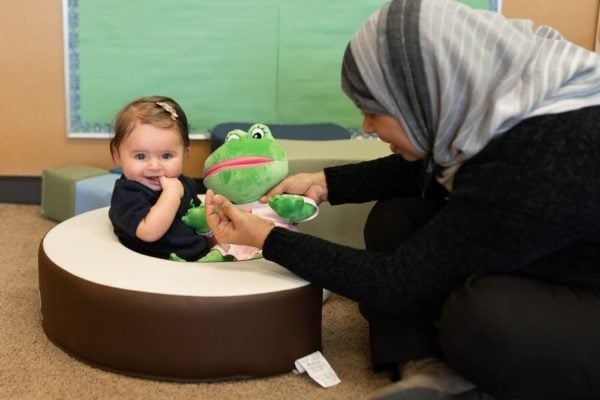 Toddler Curriculum
This program focuses on the continued refinement of social emotional skills, specifically, self-regulation and communication skills. Small group and individual lessons are offered throughout the day providing opportunities to assimilate knowledge and refine skills. This program is for ages 18 to 30 months.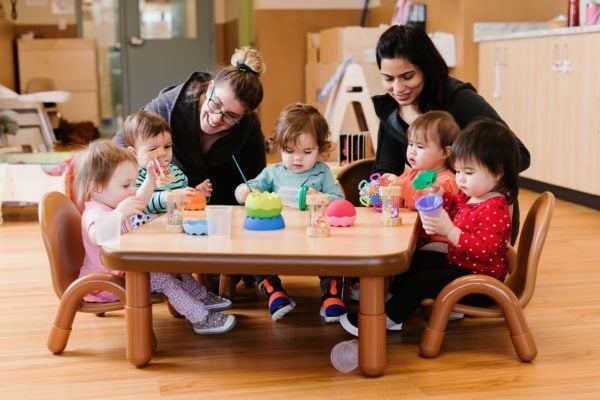 Pre-School Curriculum
The focus in our pre-k rooms is developing, refining and supporting key literacy and numeracy skills with an emphasis on discovery, imaginative play and exploration, creative arts, cosmic, continent studies and small worlds. Preschool children are focused on learning independence and developing skills for school readiness